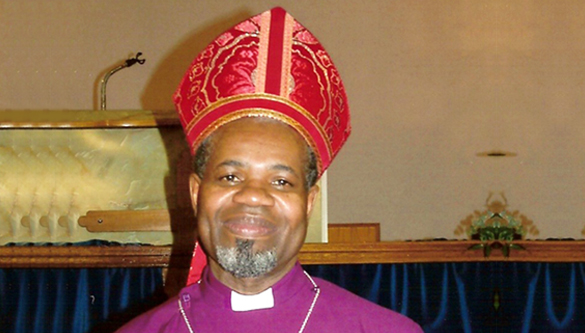 It was in 1983 at the home-calling of the then Pastor that the responsibility of leading the flock was entrusted to his care. It was not a desire of his to attain to such a position, but with the conviction of the Word in his heart, he acted on his faith and accepted the challenge.
Pastor Green pursued various studies in Christian Doctrine over the years to show himself approved unto God, a workman that need not be ashamed, rightly dividing the Word of Truth. He has obtained a Certificate in Theology from the University of London and after graduating from the Latter-Rain Outpouring Revival Bible College, he was ordained in 1983 as the minister for the Peckham Branch.
He was soon to be appointed Deputy Overseer of the ministry by the Founder and Director, the Right Revd. Dr. Olive V. Parris PhD. DD. and helped in many areas to promote the Gospel of Jesus Christ.
Bishop O.V. Parris was called home to be with the Lord in 2002 and Rev. Green assumed full responsibility for all the operations of The Latter-Rain Outpouring Revival Ministry.
The Lord has been good to him and has seen him worthy to be consecrated into the office of Bishop. On Saturday 25th October 2003, with over 42 Ordained Ministers in attendance, Rev. Creswell Green was set forth as Bishop of The Latter-Rain Outpouring Revival Ministries and The Joint Council of Anglo Caribbean Churches. He has served as Treasurer of the Joint Council of Anglo Caribbean Churches and has been elected as Chairman for sometime now.
Bishop Green married to First Lady Joycelyn Monica Green in 1994 and both are united in serving the Lord. The work of the Lord has taken him many times to places like the USA, Jamaica, Ghana, Nigeria, St. Vincent and Israel. With the dedicated members and officers, the work is progressing healthily for God's glory. He has established another two branches of ministry and is faithfully following the Lord as he endeavors to reach out to the outcasts, the hurting, the downtrodden, the depressed and the unbelieving of society.
With all the activities that he is engaged in, Bishop Green still finds time to pursue in depth studies for 3 years and has gained his Master of Theology (MTh.) Degree from the North Carolina University and the South London Bible College in 2008 and a Doctor of Divinity Degree from The Missionary Chapel & Seminary in March 2013.
---
How to find us:
50 Copleston Road
London
SE15 4AD
Nearest buses: P12, P13, 12, 37, 40, 78, 176, 185, 197, 343 & 484
Nearest train station: Denmark Hill or Peckham Rye